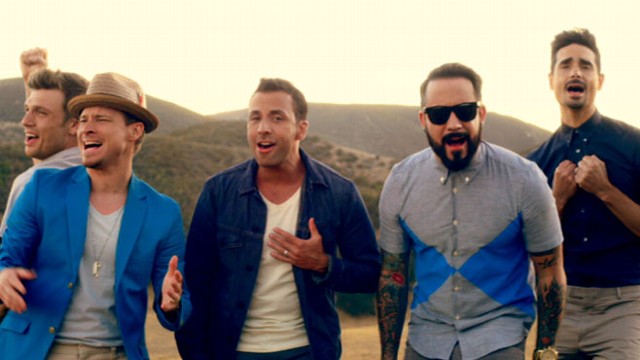 The Backstreet Boys released the official music video for their inspirational single, "In A World Like This," where they paid tribute to a few pinnacle moments in U.S. history, including the historic overturning of California's Proposition 8.
While it's easy to pass off the Backstreet Boys' latest music video as cheesy after one look at the boys singing from atop a barren hilly meadow, the video itself is sure to warm the hearts of viewers with its socially conscious message.
In the video, we see a variety of couples reacting to various news stories ranging from man's first step on the moon in 1969, to the horrendous attacks of September 11 in 2001. The montages serve to drive home the point of the lyrics which is simply that we're lucky to have the ones we love through good times and bad times.
In a touching tribute to the gay rights movement, the final scene in the music video features a middle aged woman coming home with a bag of groceries, reacting happily to the news that California's Prop 8 has finally been overturned. It's not until the camera pans out that we realize the woman is a lesbian and the final shot is of her and her partner holding hands together.
The "In A World" video premiered Friday morning on "Good Morning America." An album of the same name is slated for a July 30 release, with a world tour set to follow, both marking the group's 20th anniversary.
"The concept of the video is based on the song, which tells a story of how love conquers all and 'in a world like this' that we live in, with all the craziness and negative energy that can go around, with real love you can overcome anything," A.J. McLean said on "GMA."
McLean went on to say the group is in support of gay marriage and wanted to include an LGBT-friendly message in the video.