This week Qatar Airways celebrated the launch of its all-Business Class service between Doha and London Heathrow, enabling passengers from the UK to experience complete comfort and privacy on their journey. The all-Business Class jet, known as 'Business One', is an Airbus A319 aircraft fitted with a single aisle, 2-2 seating arrangement, offering 40 premium Business Class seats. Qatar Airways is the first ever carrier to operate an all-Business Class service from London Heathrow.
The new additional flight will increase the frequency on the Doha-London Heathrow route from 35 to 42 weekly services and comes just before the introduction of the A380 to this same route on 17th June.
Qatar Airways Chief Executive Officer, His Excellency Mr. Akbar Al Baker said the launch of this all-premium service reaffirms the airline's commitment to provide the best five-star service and comfort in the air for Business Class passengers. He added that the Doha to London Heathrow route is one of Qatar Airways' most popular Business Class destinations and the carrier has seen increasing demand for this service.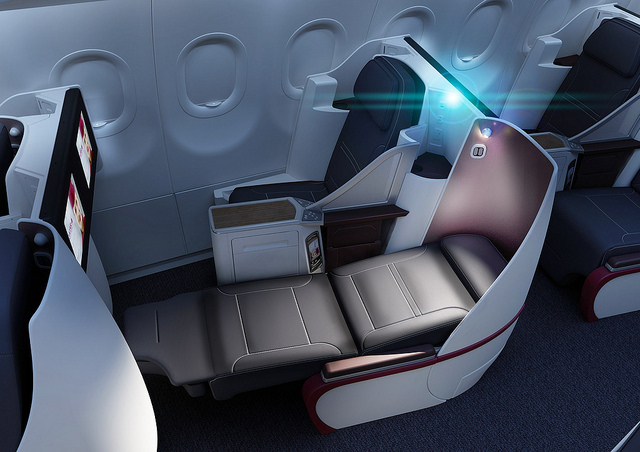 Passengers flying on the A319 can experience wide seats that recline into fully flat beds and a state of the art Oryx entertainment system, featuring more than 1,000 entertainment options. Guests can also remain in touch with their friends and business associates on the ground through the SMS mobile texting GSM and GPRS service on board the aircraft. On the ground, Business Class flyers can make use of the new Qatar Airways Premium Lounge at London Heathrow's Terminal 4, as well as the new Premium Terminal in Doha.
Qatar Airways was awarded the World's Best Business Class Airline for 2013 and has also twice been the recipient of the Airline of the Year Award in 2011 and 2012 at the prestigious Skytrax Airline Awards. The airline has also been named as 'Best Long-Haul Airline' for the second year running and 'Business Airline of the Year' at the high profile UK Business Travel Awards 2014 recently held in London.